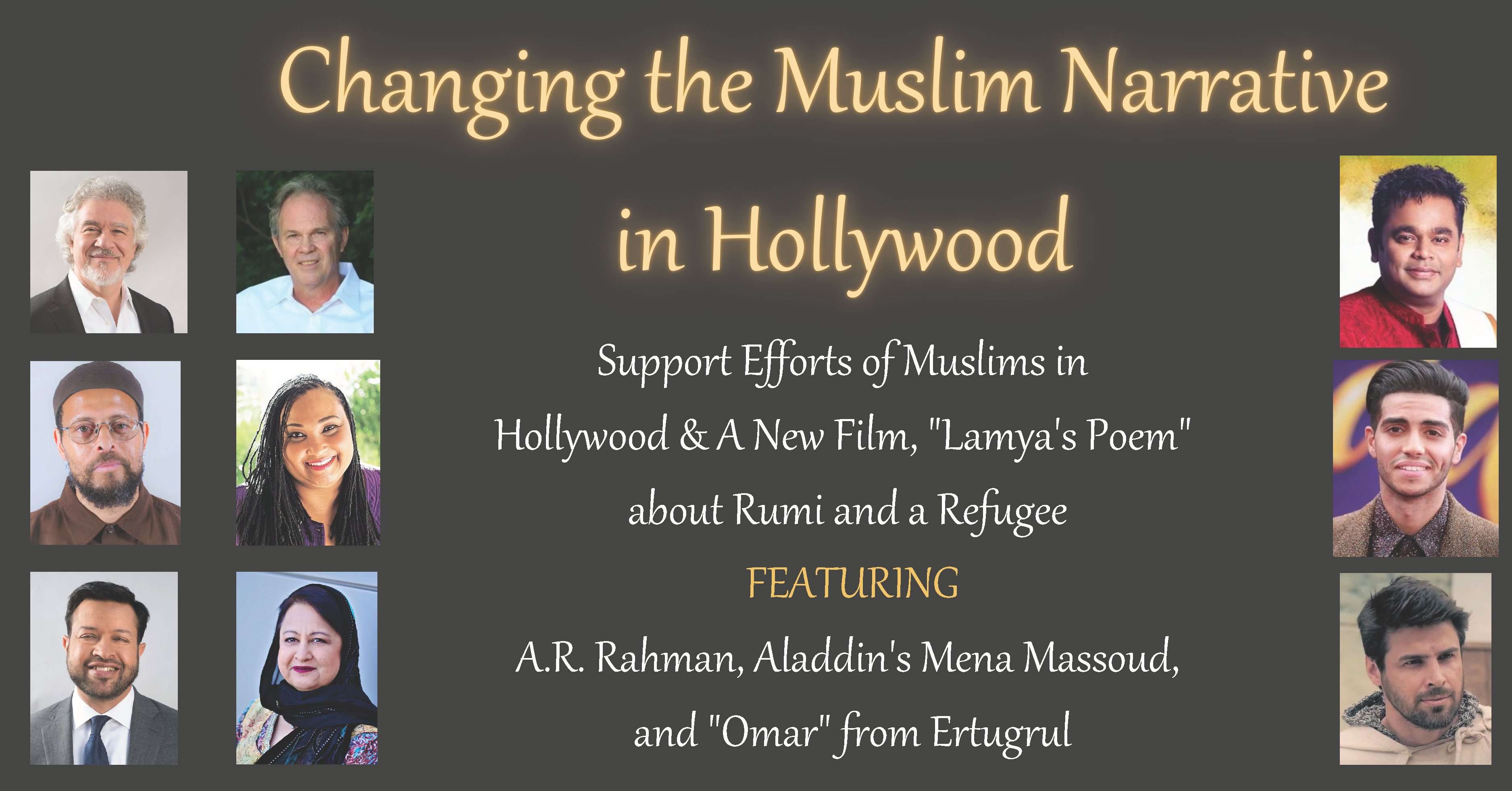 Changing the Muslim Narrative in Hollywood
Saturday, March 13th at 7:00pm Eastern (4:00pm Pacific)
WHAT'S IN IT FOR YOU – WHY YOU SHOULD JOIN US
-Popular films and series perpetuate stereotypes of Muslims as backward and violent, ignoring the many contributions of our community. This negativity hurts our children and our future.
-The Emmy-nominated UPF (Unity Productions Foundation) is CHANGING THAT. Founded by American Muslims Michael Wolfe and Alex Kronemer, they've produced a dozen films like American Muslims Fact v Fiction: The Sultan and the Saint: Promoting Muslim -Christian Peace, and Noor Khan, that show HEROIC CONTRIBUTIONS of Muslims.  The films have been shown on Nat Geo, ABC, PBS and more to tens of millions of Americans.
-UPF has also helped develop better Muslim characters and stories on shows like GREY'S ANATOMY, THE SIMPSONS, MADAM SECRETARY & many other popular series.
-UPF's new film about the famous poet "RUMI" & A Refugee (called Lamya's Poem) is nearing completion. The film will promote empathy for refugees and immigrants while reintroducing Rumi's Muslim roots to the world.  Join us to watch the trailer shown at the 2020 CANNES FILM FESTIVAL.
YOU can help us cross the finish line, your help is needed. Contributions are tax-deductible.
LET'S CHANGE THE NARRATIVE – REPLACE NEGATIVE MUSLIM IMAGES WITH POSITIVE STORIES
YOU can be a part of history – Join Us March 13th to Learn & Support
Hosted by:
Mariah & Dr. Aamir Jamal
Safana & Dr. Nadeem Ahmed
Nida & Dr. Khalid Jamal
Abrar & Laura Qureshi
Sarosh Anwar & Muhammad Usman Janjua
The event will take place on this page, upf.tv/watch