Produced for PBS - Documentaries on Muslims - Free for Libraries - Limited Time

During the current election cycle, Muslims and Islam are frequently in the news, and the Muslims holidays of Eid will take place in July and September, respectively. With this greater awareness, you may find more interest among patrons and the need to expand on your collection or holiday display. Unity Productions Foundation (UPF) is pleased to offer complimentary PBS films that bring greater awareness to the broad subject of Islam and Muslims through political, cultural, children's and human interest documentaries.
DVD Films Available: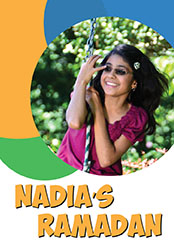 Nadia's Ramadan Tells the story of a young American-Muslim girl who takes the audience on a journey through fasting and celebrating the Eid holiday. Becky Beardsley, a 7th Grade teacher from Kennewick, WA said "This video can definitely be used to help kids understand why some students choose to not eat or drink in the cafeteria during Ramadan. I would also love to show this video and have kids do some kind of comparison chart/grid showing the similarities of the ways major religions celebrate holidays."
Using research from Gallup, Pew and other organizations, this film addresses the most common questions about American Muslim values and role in society. John H. Sununu, Former Chief of Staff of the United States, stated that "The film is very well done and makes an important contribution to understanding the reality of who American Muslims really are."
Explains the life of the founder of Islam through the lives of Americans living out his example. The LA Times said it is "a candid, thoughtful, flowing, visually stunning film, as timely as documentaries can get."

An unlikely spy emerges in France during WWII. An NPR interview about the film shared the following, "Noor Inayat Khan, one of the heroines of World War II, had a short, astonishing life."

In post-9/11 America, the dreams of an American Muslim to become a pilot have important and sometimes humorous consequences. The New York Times stated that "if there is any justice in the world, the film will increase understanding of Muslim values."